Advent Reflections 2022
Advent Reflections 2022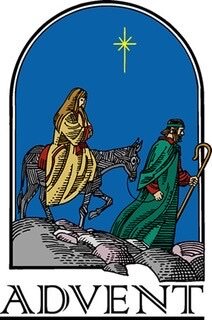 Introduction
Can you believe its Advent again? I don't know about you but I have now completely lost the plot with time scale. Those 2 years of on and off lockdowns have shattered any sense of time that I had. I have no idea now what year in school any child I know is in if indeed they are still in school! Things I though I had done last year were much less recent than I thought. Although to be honest my sense of time was pretty poor to start with (just ask my wife). Time is slipping through our hands.
Be encouraged though. These Advent Reflections reveal timeless truths about our God and His provision of a Saviour, His Son Jesus, who's birth we look forward to and celebrate this December. Where our minds are fickle and forgetful God is faithful forgetting nothing including His promise to save those who call on the Name of Jesus even out of the depth of sin and depravity.
Have you forgotten in the trials and tribulations of life that God loves you? Are you aware that His love is everlasting: His promises guaranteed: His offer of salvation free to all.
This Christmas take hold of the present offered by God, Take hold of Jesus the best present of all, not just at Christmas but for all eternity.
This year our guest contributor, has a long association with CBBC, and I suppose isn't really a guest at all: Stephen Barton, Pastor of Hambro Road, Baptist Church, Streatham, a charge he took in September this year after being a member here for many years with his wife Joy and children Hannah and Bethan.
If you are blessed by any of these reflections don't be shy in saying so to the contributor so that this may be a blessing to them.
Tosh.
Day 1
'Stump of Jesse'
Isaiah 11: 1-5.
A stump is not necessarily dead rather it can be all that remains above the ground; shoots can grow from it. There is still hope of survival and new growth. God promised that salvation would come to all from a King in the line of David. In the time of Isaiah the tree was not well, survival was threatened, God's judgement was at hand.
Then comes this prophecy of hope in Isaiah. Even tough there is but a stump of the line of Jessie left there will come a time when the stump will flourish and grow again.
We now know that the baby whose birth we now commemorate and are about to celebrate is the ultimate branch from the 'Stump of Jessie': the promised saviour for Israel and the whole of humankind.
Jesus, Joseph's son, from the line of David sent from God to bring hope to all who will believe not just for Christmas but for all eternity.
Welcome Advent: Welcome Jesus.
Tosh.
Day 2
'Behold, your King is coming to you'
Zechariah 9:9.
Do you know there is no donkey in the gospels in connection with Christ's birth? However , there is a donkey in his final week of ministry, His birth and death are linked with His majestic humility. It shocks me not that a King has come, but the type of king. Craig Blomberg called it the 'a-triumphal entry'. There is nothing triumphal about it. He's not riding on a white horse bent on conquering but riding on a donkey.
The King coming in humility is something to rejoice over. When a new emperor ascended to the throne, the news spread all over the Empire. But it wasn't really something anyone could rejoice in. Each Roman emperor was as bad as the last but here is something people can rejoice in. The King comes in peace, in humility. Yes to conquer but to conquer sin and to conquer hearts.
Day 3
Mary: 'let it be done to me
according to your word'
Luke 1: 38.
Mary has just had the most amazing, and no doubt confusing, encounter with an Angel, who told her she would give birth to a Son, not just any son, but to the Son of God!
Despite all the thoughts, where alls & what ifs that must have been going through her young head, she didn't panic, stress out or start planning how she was going to make this work, she simply left it to her God to work out His plan in her life.
If God can work out the most amazing plan ever in Mary's life, then He can surely handle any situation or circumstance that comes our way?
We need to be more like Mary and acknowledge that we don't know/understand the plans He has for us, but simply allow Him access to all areas of our life and let Him work through us!
Day 4
Joseph: 'a just man'
Mattthew 1: 18-25.
Joseph is engaged to Mary however there is a but! Mary becomes pregnant. Your fiancée is now pregnant. You know its not you. Mary is unable to explain it so Joseph being a 'just man', having considered all the outcomes I am sure- Mary's position, your position, what people would say, what the law would say- quietly broke it off. After all just men do the right thing don't they, don't they?
But after he had done this, as he was asleep, the Angel of the Lord reassures Joseph and spells out the deal: this child having been conceived by the Holy Spirit would save the world from sin by dying on a cross, defeating death setting people free.
When God's Angel tells you it's going to all right there is a better way you need to listen. Joseph, 'a just man' had been enlightened by Gods ways, surpassing anything he could think up or the law could teach him. I'm glad Gods ways are higher than ours, are you?
'my thought are completely different from yours, my ways are far beyond anything you could imagine....' Isa 55: 8.
Day 5
Announcing John's Birth
Luke 1: 57-58, 62-66.
Zechariah had earlier asked Gabriel for a sign and he got it. He was struck dumb and deaf for over nine months. Now he decisively confirms in writing and agrees with his wife that the baby is named John. He is given his speech and hearing back.
John means, 'The Grace of Jehovah.'
The last written word in the Old Testament in Malachi 4.6 was 'curse' or 'destruction.' The first written words in the New Testament speak of God's grace.
Zechariah opens his mouth and begins to praise God. His family and friends are filled with awe, fear and amazement.
Zechariah can speak and hear again!
John is a new name in the family.
Zechariah and Elisabeth are both certain about it. They remember that a mighty angel had appeared to Zechariah months ago. Old Elizabeth has given birth to a healthy boy!
What then is this child going to be?
Day 6
'Prophet of the most high'
Luke 1: 76-79.
These verses are part of Zechariah's song about his baby son, John the Baptist. The new father Zechariah has great expectations of his wee boy.
"You my child, will be called a prophet of the Most High:
for you will go before the Lord to prepare the way for him,
to give his people the knowledge of salvation through the forgiveness of their sins."
John would become a great prophet, wonderfully used by God to prepare the way for Jesus the Messiah who came to save His people – offering salvation to all who believe.
Our heavenly father also has great expectations of us his children. He wants us to bless others by proclaiming Jesus too.
Those around us desperately need some hope this Christmas. They need Jesus and His forgiveness. Our privilege is to proclaim that the Saviour has come and that salvation can be theirs through Jesus, the forgiver of sins. We are all prophets of the Most High.
Day 7
'he himself was not the light'
John 1: 6-8.
I love getting out on these cold evenings, all wrapped up for a winter walk. It can be a wonderful time to see God's creation in the night sky. The moon can be astonishing in the light it gives, enough even to walk by without a torch. But of course, the moon doesn't really give us any light. Not of its own. All it can do is reflect back to us a portion of the sun's light.
John the Baptist, only sought to reflect the light of Christ. He made it absolutely clear that his life was about preparing the way for Jesus, not reserving any praise or glory for himself.
We also have the joy and privilege to reflect the light of Christ into the darkness of the world around us. And though that darkness may seem great, the one whom we are here to reflect is light eternal.
Day 8
'I am the light of the world'
John 8: 12.
Christmas is so much about lights!
There is something warming and happy about twinkling coloured lights which sings to our hearts and makes us smile.
On the first Christmas morning the lights that shone were from the glory of God and the angel hosts announcing the arrival of The Light of the world.
After Jesus announcement ' I am the light of the world' His promise was ' he that follows me will not walk in darkness, but will have the light of life.'
Whether that darkness is sadness, anxiety, despair, poverty, sin, grief, illness or loneliness or indeed any other kind of darkness, Jesus has dispelled it. You can walk in the light.
Just ask!
Remember the Light of the world and what He has promised every time you see Christmas lights.
And let your heart sing.
Day 9
The Shepherd calls
John 10: 1-3.
Sheep in Jesus' time were kept safe at night in sheepfolds –often enclosures of stones or branches with one entrance for the sheep to go in and out. The shepherd would usually stay at the entrance to protect the sheep from harm. Villages had their own sheepfolds with various shepherds bringing their flocks in the evening. Sometimes gatekeepers were hired to guard the entrance.
Picture the scene… at sunrise, a shepherd makes his way to the sheepfold and calls his sheep who know his voice and come to him. The loving shepherd checks his sheep, looking for any that might need his help. He then goes before them, leading them to new pastures.
In these uncertain times, like the sheep, the safest place for us is to stay close to Jesus, the Good Shepherd, listening to his voice and following him.
Day 10
The Shepherd lays down his life'
John 10: 11.
When I think of the Good Shepherd, my thoughts often turn to Psalm 23:"the Lord is my shepherd, I shall not want". The Psalmist, King David, was a shepherd. Because David had rescued his sheep many times from lions, bears and other threats - Goliath was no big problem!
Jesus is like a shepherd and loves his lambs. However, Jesus faced a far greater adversary –Evil itself. When we sin, there is only one penalty–death! Jesus never sinned, but he took the penalty which we deserve, on himself. He laid down his life, so that we can live.
Mary and Joseph were told to name their child Jesus (the Rescuer), because he would save his people from their sins. God sent Jesus, so that whoever believes in him will not perish, but will have eternal life.
Day 11
Lost Sheep
Luke 15: 3-7.
There is a lot of joy to be found in this parable. The shepherd rejoices when he finds his lost sheep; he invites his friends and neighbours to rejoice with him; there will be joy in heaven for each sinner who repents. The familiar refrain, "repeat the sounding joy," comes to mind, as we connect the Good Shepherd depicted in the parable with the helpless babe whose birth brought joy to the nations.
This Christmas, though, I am so aware that the last few years have taken a toll on many people at home and further afield. The words of "Joy to the World" may ring hollow, but there is also hope here for the weary. The shepherd carries the lost sheep home on his shoulders, he doesn't expect it to trudge back, dutifully trotting by his side. Jesus' invitation is not to find ourselves, just to know that we are lost. He will do the rest.
'The Lord is my shepherd; I shall not want.
He makes me lie down in green pastures.
He leads me beside still waters.
He restores my soul.'
Day 12
'never seen anything like this'
Mark 2: 8-12.
If we care to look around us there are many wonderful things to be seen. We are particularly blessed in the Highlands I think. As I write this Ben Wyvis has some snow on it accentuating its shape as it rises above its surroundings. I love seeing Ben Wyvis in any season it must be one of my favourite vistas. It spells 'HOME' to me. And what about The Northern Lights? Absolutely incredible: spectacular (I keep missing them!)
What about seeing someone being healed- picking up their bed and walking again? Pretty mind blowing. I think I would be saying the same as the men in this passage: 'never seen anything like this'. Jesus did many many amazing things.
If we care to look and see, there is much evidence of the Holy Spirit at work around us and even in us, and through us today. Make sure you see what is really there, see through the trappings of a merchandised Christmas: See Jesus because you will have 'never seen anything like this'.
Day 13
Jesus: Hope in the desert
Isaiah 41: 17-20.
The picture Isaiah gives us is one we in the UK struggle to grasp, yes it rains lots in London too.
We are so fortunate that we can turn on a tap and water comes out. Imagine walking for miles in a dry desert to go to find water and all there is sand. I am getting thirsty just thinking about it. However, we are all too aware of our spiritual barrenness. Maybe you even know this in your own experience.
If so cry out to Him, God can turn your personal desert, your thirst for Him and fill it with His fullness. For barrenness across the land, this text is telling us that God can change even that in a moment. There is also an eschatological promise: there is a time coming when there will be no more hunger and thirst, no more suffering.
Nowhere in Immanuel's land.
Day 14
The blind receive their sight"
Secular Christmas is portrayed as a time of superficial happiness. Good food, presents and parties. But Christmas can bring up different emotions. It can bring memories of people we are missing, a time of financial stress, and highlight loneliness.
Isaiah 35 is titled "joy of the redeemed" in my bible and has a beautiful description of the redeemed including verses 5 and 6. In Luke 7 Jesus tells John's disciples to describe to John the miracles they are seeing. This was to reassure John that Jesus was the one who came to redeem us.
The Collins dictionary defines "joy" as a deep feeling of happiness or contentment. Let us concentrate on this deep contentment that can be found by accepting Christ as our Redeemer – as if we were blind and can now see - rather than the superficial happiness that food, presents and parties can give us.
Day 15
'ate and were satisfied'
Have you ever been looking forward to a special meal? Your mouth waters and stomach rumbles - anticipating the delights that you are about to receive. It arrives, you eat, you relish the taste, you finish - truly satisfied? But the taste fades tomorrow you will hunger again.
We long for wealth, status, power, accomplishments - all earthly riches that will slip away. True and lasting satisfaction can only be found in knowing God and Jesus Christ. Building our relationship with Him and becoming aware that our lives can change when we trust in the power of the Holy Spirit.
The people were hungry the people needed sustenance. Jesus knew what they needed - He knows what we need, even before we ask for it!
Jesus offers a fullness of life, an abundance of goodness and grace to all who follow Him.
"Blessed are those who hunger and thirst for righteousness, for they will be filled" Mat 5v6.
As we look forward to Christmas and celebrate the birth of Jesus Christ why don't you
"Taste and see that the Lord is good" Ps 34 v 8
Day 16
'This is my beloved son, listen to him'
Mark 9: 7b.
Peter, James, and John were terrified and, in a panic Peter uttered nonsense. But God intervened and assured them of Jesus' divinity and power, and that they should listen to His son Jesus' words, understand, believe and do what He says, not just play lip service and ignore His teaching.
We too would have been dumbstruck and speechless in similar circumstances, but we have the Cross and Jesus resurrection, so should not we then more fully learn to listen, understand and obey His teaching.
Jesus, on hearing God speak, knew the Joy of being commended by his Father for acting and speaking precisely as God intended and Jesus would have been blessed by this. Should not we also desire the Joy and blessing of hearing God say 'Well done good and faithful servant'
God Bless
Day 17
'in you my soul takes refuge'
The Christmas season can be a time of joy, festivities and thankfulness. Yet, this year there are many among us who may be feeling run down, uneasy about the future, or longing for the past and the loved one who is no longer here. If you feel some of these things this year, today's verse is for you.
'for in you my soul takes refuge;
in the shadow of your wings I will take refuge,
till the storms of destruction pass by.'
Even though there are many storms around us this winter I hope your soul finds peace and refuge in the love of God and the community of His people. Christmas is the reminder that God in love reached out to humankind and longs to gather us under His wings.
Emmanuel, God with us.
Day 18
'for behold the winter is past'
In this passage the bride rejoices at the long awaited arrival of her bridegroom after a long winter wait. Joy and a new hope rises. Her future is now secure.
Our winter is surely the indelible mark of sin that no stain remover of our own making can shift. We are without certain hope.
But now is the time to rejoice, the time to sing, the winter is past for our long awaited saviour has come to us to redeem those who call on his name. The grip of sin and death has been loosed. Shake off the shackles of the dark winter and burst forth into the light of summer that is Jesus 'the light of the world' bringing the hope of the ages for today, tomorrow and for all eternity.
"Arise, my love, my beautiful one,
and come away,
for behold, the winter is past;
the rain is over and gone.
The flowers appear on the earth,
the time of singing has come,
and the voice of the turtledove
is heard in our land.
Day 19
'I came that they may have life'
John 10: 10b.
John chapter 10 is entitled 'The Shepherd and His flock' and second half of verse 10 is a poignant reminder to us that Jesus came so that we may have a full life, not an inadequate, half empty one that cruises along without purpose or hope, but an abundant life that is overflowing with contentment and satisfaction in Him.
This abundant life is not specifically reserved for "good people" or "those who are better than us", it's available to everyone because we are all sinners who need the Saviour Jesus. Accepting Jesus into our hearts and following after Him doesn't necessarily mean that we will have a long, easy or straightforward life but it absolutely secures our future and provides us with meaningful daily purpose as we serve Him and seek His will for our situations, whatever they may be.
Day 20
'Behold I am coming soon'
Verses 12 and 13 offer much to reflect on. Christ presents the mystery of himself as both The Beginning and The End, transcending time and space, and the man who is coming soon. For me, the messaging of these verses reveals Jesus' focus. He is everywhere all the time and yet he is locked onto his return as the next phase of his salvation plan. Why does he say 'soon' when he knew it was going to be millennia before he actually came back? It wasn't fake news or false optimism; rather his intention was to say that he wouldn't delay even one moment. Once the 'greater works' he left us here to do are done and time has run its course, then he'll be back bringing his reward. So, let us eagerly anticipate that day, even as he does, looking to be named good and faithful servant. Calvin is famous for saying that God accommodates revelation of himself by 'lisping' to us. That is something of what is happening here: mysterious truths spoken to encourage us until the end.
Day 21
'raised up a horn of salvation'
Zachariah is so like his son, John the Baptist here. He is at his son's circumcision, and he casts his attention to a distant relative on his wife's side. His lips full of praise for God, not because God has given a longed for and promised son but that God, in the tiny Foetus of Jesus has raised up a horn of salvation. A horn, a picture of strength, Zachariah gets that, but that strength is found in a baby not yet born. This strength is displayed in a shining light in darkness, a horn of Salvation, he sounds like he means deliverance from Rome, but he talks about forgiveness of sin: God's strength displayed in bringing tender mercy. Zachariah has his voice back and he uses it to praise his God for the gift of Jesus. Have you used your voice to praise God, for the horn of salvation?
Day 22
Immanuel: God with us
Matthew 1: 22-23.
Matthew explains that God came to us through the birth of Jesus. The final verse in Matthew is Jesus saying, "And behold, I am with you always, to the end of the age."
God is still with us today, He is still Immanual. He is interested in what we think, what we feel, and what we go through. He is by our side through our good times and our bad times, always present, always available. He is with us, supporting us, even when we don't realise it. Mary Stevenson expresses this beautifully in the final words of her poem "Footprints in the sand".
"The Lord replied, "My precious, precious child. I love you, and I would never, never leave you during your times of trial and suffering. When you saw only one set of footprints, it was then that I carried you."
Day 23
Angels: Singing Praise
The New Testament word for Angel means Messenger. Every time Angels appear in the Christmas Story they are carrying messages from Heaven to Earth. A vast number appeared to those Shepherds on that Bethlehem hillside: A most breath taking sight!
The Angels first response was to Worship God. It's a reminder that our first response should be the same. They went on to sing about Peace on Earth amongst those whom God is pleased. This may sound exclusive, but it is far from it! It is in fact, an open invitation to all who know, and who will yet, come to know Jesus as their personal Saviour.
That same peace can be ours. It can help us through all of, our pain struggles and fears. The Lord Jesus offers us peace in our hearts, and the outworking of that internal peace will be evident, as we live and serve in our daily lives, to the Glory of God.
As we celebrate the birth of The Saviour this Christmas, may we, like the Shepherds, "make haste" to share the Good News he brings of Salvation and hope to a struggling World.
Day 24
'Word became flesh….'
John 1: 14.
I know I usually get twice the word count of other folk but given the brevity of John I have decided to simply use a quote to match John's attempt of refusing to allow the trees to obscure the view of the wood, Hope you don't mind. And more than happy of the original author to take the plaudits for authorship
'And the Word became flesh and dwelt among us…'
John, the apostle.
"In my opinion, this is the greatest sentence ever written in the history of human language, the deepest theological statement ever written.''
Grant Osbourne
Instead of adding more words how about adding thought as we allow that to lead us to worship.
A true reason for a very Happy Christmas!